MUSICIANS TO WATCH FOR:

We here at
the RED BANANA
thrive on all that is indie.  Exposing our readers to new ideas, delivered to us by relatively unknown artists, is our ultimate goal.  When I was introduced to
the StereoFidelics
, I knew I would have to write something on them.  Self run, self produced, self promoted- this group is the definition of indie. 
Who are the StereoFidelics, you ask?
They are a brilliant duo out of Asheville, NC, comprised of
Chris Padgett
 and
Melissa McGinley
.  McGinley can be heard on violin, drums, and vocals, while Padgett covers 6 and 12 string guitars, electric guitar, loops, vocals, and keyboard. 
First known as the
Quick Sixers
in 2006, they began playing under their current name in October of 2007.  They are my favorite type of band, because it is virtually impossible to label them as a specific genre.  Their music crosses a multitude of style lines, fusing everything from rock, classical, jazz, and world music, into one.  Perhaps the most fascinating thing about the StereoFidelics is that the two of them play all of their own instruments. Simple, right? Wrong. All kinds of musicians put out records where they cover several parts in each track, but how many pull this off live?  Somehow Padgett and McGinley have developed a rhythm in the orchestration of their songs, that enables their live performances to exhibit the same instrumental richness as their recordings.  Because of their amazing talents on multiple instruments, and their keen ear for musical texture, their small size allows them additional artistic freedom, while other bands would be hunting for additional members.  
Here is a montage of concert footage:
One of my favorite tunes by this duo is
"Spanish Radio"
.  Although this is not the greatest example of their multi-instrumental acheivements, their level of instrumental skill is made quite clear.  I absolutely love how the violin is showcased in this piece, and the level of emotional dedication that pours out of the music is extraordinary.  
Here is a live clip of "Spanish Radio"
:
Their debut album,
Only Sleeping
, is set to be released in September of this year.  If the tracks I was sent are any indication of what is to come, I assure you this record will be golden.  It is difficult for me to realise that I was only sent 2 tracks.  I have been listening to them on repeat for a few weeks now, and they have yet to grow old.  You can purchase your own copy of the singles here:
The first track is
"Black Elephants"
.  Underneath the dark meaning of the lyrics, you can feel the music infiltrating your body and spreading through your veins.  McGinley's work on drumset locks into a groove that hooks the listener immediately, while the honest vocals Padgett produces work magically to tell the story.  The second track,
"Me, You, And Everyone We Knew",
is a self-described homage to
the Invasion of the Body Snatchers
.
This has easily become one of my current iTunes favorites.  Everything in the song fits together perfectly, and works to create a phenomenal music experience.  I encourage you to listen to this track through headphones, because you will feel as if you are floating in a sea of musical bliss.  You will be completely surrounded by various instruments, swirling with harmonic fever.  I love that the vocals add to the music, rather than distract us.  I also love hearing the fiddle/violin enter into the soundwaves(of course).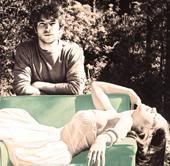 The StereoFidelics have recently embarked on their second independently booked national tour.  This 50-day run will include stops from coast to coast, so if there is a show scheduled in a city near you, I highly recommend checking it out!  Sadly the one area not covered is the Northeast, which means there are no shows around us to cover!   We will keep you up to date on the happenings of this dynamic indie force, and hopefully after the tour we will be able to steal some time with the band to discuss what is sure to be an incredible debut record.
REMAINING NATIONAL TOUR DATES:
June, 21 2008 10:00 PM - Rumba Cafe w/ The Great Mad Hoax
2507 Summit Street, Columbus, Ohio 

June, 22 2008 10:00 PM - CANCELLED - Nite Owl is closed
430 E. 5th St., Dayton, Ohio - $5

June, 24 2008 08:00 PM - Reggie's Music Joint w/ Mr. Blotto
2105 s state st., Chicago, Illinois

June, 25 2008 10:00 PM - The Alchemy
1980 Atwood Ave., Madison, Wisconsin 53704

June, 26 2008 12:30 AM - DEMO Showcase @ The Acadia
329 Cedar Ave., Minneapolis, Minnesota - suggested donation at door

June, 27 2008 09:00 PM - The Eclectic
216 s 8th street, Brainerd, Minnesota

June, 28 2008 08:00 PM - Shaky Tree
5 W. 2nd St, Spencer, Iowa - Suggested donation $10

June, 30 2008 09:00 PM - Kirby's Beer Store
3227 E. 17th St. N, Wichita, Kansas

July, 2 2008 10:00 PM - Conor O'Neills w/ t.Mule
1922 13th street, Boulder, Colorado - $2!!!

July, 3 2008 10:00 PM - Owsley's Golden Road
2151 Lawrence st, Denver, Colorado

July, 5 2008 09:30 PM - Vault Martini Bar
20 E Vine st, Redlands, California - $5

July, 6 2008 09:00 PM - The Hotel Monte Vista Lounge
100 N San Francisco St, Flagstaff, Arizona

July, 7 2008 08:00 PM - ChyroArts w/ My Mind
1330 N. Scottsdale Rd., Scottsdale, Arizona

July, 9 2008 10:00 PM - Aura NightClub
12215 Ventura Blvd, Studio City/LA, California - $5

July, 10 2008 09:00 PM - The Good Hurt
12249 Venice Blvd, Los Angeles, California - $5

July, 12 2008 05:00 PM - Mountain Sage Concert Series
18653 Main st, Groveland, California - $12

July, 13 2008 03:00 PM - California Cider Company
3100 Gravenstein Hwy, Sebastopol, California - $5

July, 14 2008 08:00 PM - Mama Buzz Cafe w/ Toby Oler and Matt Lundquist
2318 Telegraph Ave, Oakland, California - $3

July, 17 2008 08:00 PM - The Falcon Bowl
3295 s Broadway, Englewood, Colorado

July, 18 2008 10:00 PM - Road 34 Bike Shop
1213 W Elizabeth, Fort Collins, Colorado

July, 19 2008 10:00 PM - Dulcinea's 100th Monkey
717 E. Colfax Ave, Denver, Colorado - $10

July, 21 2008 08:00 PM - The Papio Bowl w TBA
, Omaha, Nebraska - $7

July, 22 2008 09:00 PM - Box Awesome
815 O st., Lincoln, Nebraska - $7

July, 23 2008 08:00 PM - Knucklehead's w/ Off The Record
2719 Rochester, Kansas City, Missouri - $4

special guest, return from the grave, Quick six!
July, 24 2008 08:00 PM - Donna's Ice House w/ TBA
2097 State Route 'Y', Linn Creek, Missouri

July, 25 2008 08:00 PM - Cherry Street Artisan
111 s 9th street, Columbia, Missouri

July, 26 2008 05:00 PM - Underground at Red Sea
6513 Delmar Blvd, St. Louis, Missouri - $6 in adv/$8 at the door

July, 27 2008 09:00 PM - Points East Pub w/ Bill Mallonnee (The Vigilantes of Love)
1501 N. Jackson St., Milwaukee, Wisconsin - TBA

July, 29 2008 08:00 PM - The Modern Exchange
12219 dix-toledo rd, Southgate, Michigan

Doors at 8, debauch at 9...
July, 31 2008 08:00 PM - Constant Spring
219 s Main st, Goshen, Indiana - Suggested donation $5

August, 1 2008 07:30 PM - The Melody Inn
3826 N. Illinois, Indianapolis, Indiana - $4

August, 6 2008 08:00 PM - The Lantern 
Blacksburg, Virginia

August, 7 2008 10:00 PM - The Acoustic Coffee House
Johnson City, Tennessee

August, 8 2008 06:00 PM - The French Broad Brewery
101-D Fairview Rd., Asheville, North Carolina

August, 14 2008 09:00 PM - The Westville Pub
777 Haywood Road, Asheville, North Carolina - nada

no opener
August, 16 2008 08:00 PM - Concert at Veterans Park
Columbus, North Carolina

August, 22 2008 08:00 PM - Rogers Park with Firecracker Jazz Band
Rogers Park, Tryon, North Carolina

August, 24 2008 08:00 PM - The Five Spot
1123 Euclid Ave, Atlanta, Georgia - $5

August, 29 2008 08:00 PM - The Orange Peel w/ Banana Da Terra, Oso Rey
Asheville, North Carolina - $8

September, 13 2008 09:00 PM - The Back Room in Flat Rock
101B singleton center, Flat Rock, North Carolina - $5

September, 27 2008 08:00 PM - The Purple Onion
US 176 Downtown Saluda, Saluda, North Carolina

October, 4 2008 04:00 PM - FRAW Fest
101 B singleton center off sr 225, Flat Rock, North Carolina